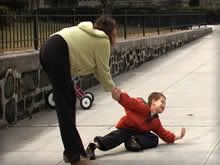 "The $50,000.00 that we're in debt...it's all about the autism"

As far as I can tell, the child in this family is under the age of 5. I could be wrong. Either way, let's assume the child was diagnosed with autism around the age of 3. So, in two years or less, you have spent $50,000.00? On what? I'm rather curious as to what that money was spent on. The mother did discuss some special therapy room they built. Interesting, of all the many families I know who have autistic children, a very minute number of them have therapy rooms. The only ones who do, had plenty of money to do so. The rest of us, haven't felt a need for a "therapy" room in our home. Now, for quite a time, we transformed our kids' playroom into a sorta-therapy room. That is, when my daughter's ECI therapists came to the house, we put a few mats down, exercise ball, etc. and that's where her sessions were. Total cost was, I think...oh, right, nothing. Certainly, I would attend to a leaky roof--something that could be not only a safety but also a health hazard, before I went about creating a therapy room.

Aside from the therapy room, I'm still struggling to add the numbers up to $50K. They are in the U.S.A., and if I'm not mistaken, they reside in New York. New York is said to be one of the best states to live in, if your child is autistic (as far as schools, programs, etc.). I assume, if her child has so many issues, that he is getting therapy in addition to a special ed school program. Perhaps they do not have insurance, but then one would have to assume they receive coverage via medicare or medicaid, right? That's typically the way here. So, if they are doing private therapy in addition to what the school district is giving them, I would guess most of that is covered? I'm just trying to think of our healthcare coverage, what is covered, etc. and the experiences of our friends.

I still find it difficult to get to $50,000.00, that is, unless one was also using quack-cures. Perhaps that's where they are blowing their money and getting themselves into debt with? Huh...so it's not really the autism then is it? No, the $50,000.00 that you're in debt--it's all the insane autism fake-cures and biomed b.s. NOT the autism. Again, I may have missed some things here, and perhaps my math is a bit fuzzy, perhaps I'm too ignorant. But, the only way I can imagine getting ourselves into $50,000.00 debt in anyway related to autism is if I bought into the whole DAN!, TACA, etc. mindset, and allowed myself to get ripped off.