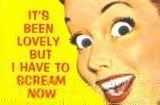 Well, I was hopeful. I even gave up a much-needed manicure for it. I have 3 hours a day to myself, for myself, where I have nothing to do but whatever the heck I choose. I felt strongly that today I needed to stay here at my laptop and see what this "Town Hall Meeting" was all about.

I will say I'm glad NYU Child Study Center actually did this, and I'm glad they are reaching out, it appears, to further this topic of public awareness (in, hopefully, a respectable manner). But, it seemed to me that while some good questions were asked, there weren't any answers. In fact, most responses felt more like pre-written soundbites. I don't know, maybe it was just me. The forum itself was a little flaky at times, it had a few kinks in it. My question was posted by "Anonymous" instead of the user name, S.L., I had chosen. Here it is:


What is being done for teens with autism etc., with regard to preparing them for adulthood, independent living, etc? Do you currently have programs in place to help these children (and their parents) ease into adulthood? It's great how far we've come with early intervention and the school system, unfortunately, at 18 or 21 , these individuals are essentially deserted, and often forgotten about.


And, the response:


Federal law mandates that at 15 every child classified with a disability begins a who are graduating from high school. Adult agenices are begining to understand the specific needs of young adults on the autism spectrum and plan more specific job support for them but we are just in the infancy of understanding how to truly integrate individuals on the autism spectrum into the workforce. in preparation for adulthood teens need to have a variety of work experiences, improve their social skills development and learn how to advocate for their own needs in the community. Professionals and parents need to ensure that these early steps are taken in preparation for adult life.
But what are you doing? What is NYU doing? From that "answer" I can only assume they do not have any such programs in place. The overall theme was "early diagnosis, intervention" and it appears they are holding onto that as being all that's needed. My daughter had early intervention (from before age 1 for developmental delays!), she's been followed by a neurologist from before she was a year old. Check, check. And now we wrangle our way through the school district, and hope they are helping my child in the best way possible.

I am still very concerned for her future. What will her options be after high school? What happens when her father and I are no longer around? What is waiting for her? Right now, the answer is nothing. I feel as if I'm running a marathon (unfortunately on a treadmill, as I feel I'm going nowhere) to find something for my child and all the others like her, who one day in the future will be 18. That day gets closer and closer, with only a bunch of talk about early identification and intervention, second to that is "cure."