April is officially over. And all I can think of is John Lennon's "Happy Xmas (War is Over)" song...

So this is May First
And what have you done
Another month over
And a new one just begun
And so this is May First
I hope you raised funds
The near and the dear one
The old and the young


So what have you done?

$1,402,639 was raised thus far (assuming this is final amount, as campaign was said to end yesterday, May 2) from the Toys R Us/Autism Speaks campaign. It does not clarify if that is the online donations, or a combination of in-store and online funds raised. So what will Autism Speaks do with this money? And what will they do with the millions and millions they continue to raise? I urge Autism Speaks to help, the young and the old. Create programs and services, or create separate, smaller agencies to handle the needs of older children and adult autistics. That is what's truly needed.

I was glad the other day, as I checked out of the store, that this was the last time I'd see these. At least for now. At least until next April...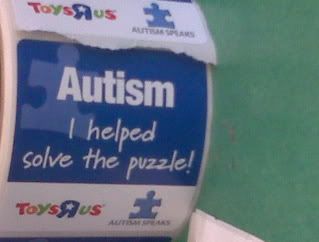 I didn't feel obligated to do anything for "Autism Awareness" month. Sure, I blogged on it, I watched CNN on that day, I read some articles and studies, I watched some documentaries, I spoke to family and friends, I was inspired, and, of course, lived each day, quite "aware" of autism. We make people "aware" of autism (& also of things like seizures and feeding tubes) whenever the situation presents itself. Perhaps at the playground, a friend's house, or elsewhere. I don't feel it necessary to educate every person I come in contact with. Mostly because, I am raising two young children--a handful enough out in public. I simply don't have time to give even a mini Autism lesson to the strangers who may stare or whisper. And, to be honest, that reaction typically only comes following two things: a meltdown or if they see my child's feeding tube. Both times, I'm fully engaged in my child and don't have a moment to be concerned with others.

People generally smile, even if they appear perplexed, if they catch my child "stimming." I don't think they see a child jumping or walking in a circle or even flapping and think "autism." They most likely see an excited child, perhaps a hyper one, and usually a happy one. For some, if they know what "stimming" is, they may see that, but then they'd also understand it. So, did I do my part for the month of April? I'd say yes. But then again, I do that same "part" every month of the year. And the biggest bit on "awareness" you'll hear from me in person is the need for adult supports, respect for autistics, and the disgusting reality of eugenics.

One of the COOLEST things I came across during "Autism Awareness" month was here, please check it out.