A mother understands what a child does not say. ~ Jewish Proverb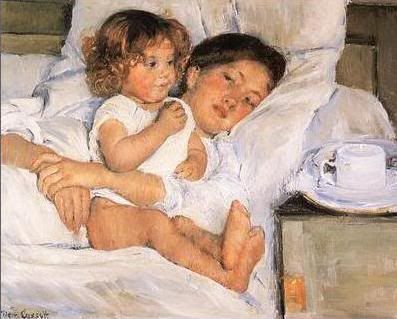 (Breakfast In Bed ~ Mary Cassatt)

This is from Elaine Hall (aka "Coach E") of The Miracle Project (Autism: The Musical):

My mom used to say that Mother's Day was just another day. She still needed to make the bed, straighten up the house, wash the dishes (especially after we'd made her that fabulous breakfast in bed and turned the kitchen into a splattered mess!) Though my mom didn't always show it, I know those cards we decorated and the little gifts we made in school warmed her heart.

For us "Special Moms" it can be a little different. Our kids can't always express how they feel towards us in traditional ways. They may not be able to verbalize how they feel, or they may not be able to draw or write their name on a card. But know, when you dig down inside of your own soul, you can hear their voices.You can sense their appreciation. You can know that you are their lifeline; their advocate; their way in to the world.
She continues on with a poem and some words of wisdom for other moms. You can read the rest of her Mother's Day message
here
. I love what she says, about how your child may not be able to verbalize their feelings, make a card, or the other "traditional" ways kids typically say "Happy Mother's Day."
As
I've written before
, it is a learning process, to "alter your preconceived notions" of what love looks like, how it is expressed. Do not focus on what your child isn't doing (saying "I love you" or hugging you or blowing kisses), but rather what he or she
is
doing. And, mostly, how in their own unique and special way, they are showing you that love. Those declarations of love and gratitude are often found in the little, simplest of moments. You have to look closely, and again get past all the ways you once thought love was expressed.
I've also
written my feelings
, on how honored I feel to be my daughter's mother and also of the very real
concerns I have for the future
. There are far too many "autism moms" in the media who say awful things about the life they have with their child, desperation and fear are the overriding themes. They claim to speak for all of us, all of us moms who are raising autistic children. The public perception is that we are all miserable, we have no hope, and we are fixated on curing our children. The focus remains on how to "cure" their child, not on acceptance or on preparing for their adulthood.
For new "autism moms," the task of figuring out what the diagnosis itself means, what steps they should take, and how to handle "life with autism," is nothing less than confusing. There are a million perspectives out there. As it's stated above, take a breath. Educate yourself, but be sure you know where you are getting your information from. There are also many people who have hopped on the autism boat to make a buck. I have found the greatest support and advice comes from parents who have older autistic children. They have more experience and perspective, they've 'been there, done that.' And--survived to tell about it! My best piece of advice I might give to a mother whose child has recently been diagnosed with autism: always be aware of what you
choose
to focus on
at the end of the day
. That can make all the difference, not only for you, but especially for your child.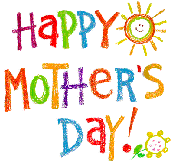 "My mother had a great deal of trouble with me, but I think she enjoyed it."

~ Mark Twain