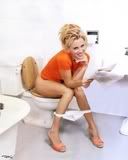 I just caught Jenny McCarthy's interview on E!'s Chelsea Lately show. Here is the link (bad language warning). Really now, it is frightening who we have speaking to the public about autism and supposedly representing "us."

She talks about how she asked Mormons to come pray for her "sick" son (and how when your child is sick you'll decapitate small animals, hmmm...). I wonder if this is before or after she discovered her child was a Crystal? To say that Ms. McCarthy was desperate for some type of hope for her and her son, is an understatement. I've never seen someone speak so frantically over their child's autism. No wonder she hopped onto the DAN bandwagon, and now is so 'into' TACA & Generation Rescue. One can only speculate what she may discover next, what group she'll become immersed in. Perhaps Dr. Carley will win her over?

We're not all screaming "HELP US!" At least we're not looking for the "help" you have been shoving down our throats for months. The help I want, is knowing that my school district has the proper resources and is giving my child all she needs to achieve her potential. The help I need is programs for my child and many others as they reach adulthood. I need help with transition from the school system, will my child have the opportunity to attend college? Will she be able to live independently, will there be housing options available to her? Is there vocational training available, and who will hire her? Will she be able to attain medical care, psychological services, etc. from reputable physicians? How will the world view an autistic adult in 10-15 years? If changes are not made, how many autistic children growing up today will be homeless in their 20's, 30's, or 40's?

She goes on to give the number to the White House, asking viewers to call and ask for the resignation of Julie Gerberding, CDC Director. Chelsea suggests telling the White House, "Julie Gerberding suck it hard!" and Jenny adds, "I was going to say aka the Devil." Nice. Later on, Jenny says she hopes "we create a major s**tstorm," over this issue. Lovely, now that's classy. I'm so glad that the public will look to Jenny and feel she represents all autism moms. I can only imagine what the media coverage will look like on that weekend in June when Jenny and her fellow Generation Rescue drones will descend upon the CDC. I wonder if their posters will have signs with the above mentioned quotes? Should be quite a circus.

The interview ends with Jenny stating that we (us autism moms) live in a kind of hell. Not me, no way, not by a long shot. Jenny, you want to know what hell feels like? For us, it was watching our child lay lifeless in the PICU. She had tubes coming and going, tests round the clock, she was essentially in a coma and no one knew why. We thought we were going to lose her. Jenny, that is hell, fearing that your child is going to die and you can do absolutely nothing about it, except pray every minute. Get some perspective. Life with autism is not this nightmare you are selling to whoever will listen to you. It's amazing that celebrities feel they can actually relate to moms in regular America. None of us can just go do a photo shoot to make some more money to cover our child's therapy. We don't have access to the press to speak up about our concerns and get funds raised toward what's really needed. You simply can't relate to us, and again, "we" don't live in a "kind of hell." And, besides, with your son "recovered," what exactly are you whining about?

In the very end, they both state that the government has said that vaccines can cause autism, as just decided in a recent court case. Really? Which court case was that, did I miss it?