So, I really, really, really wanted to write a cute, light post here today. Lucky for me, my daughter presented me with just that today.

We hit the local farmer's market (she does much better here--less crowded, more open space, no loudspeakers, etc.), she was in a great mood. Ya can't ask for more than that! At one point, halfway through our shopping excursion, I brushed some hair off my cheek and felt something odd on my earlobe. I touched it, and then suddenly realized I had those fake stick-on earrings on both my ears! Earlier in the day, my daughter had come up to me and stuck them on my ears. It was such a cute gesture, I left them there...and completely forgot I had them on! I can only imagine what the other shoppers thought (who, by that point, I had come in contact with more than a handful!). One was a light pink heart, the other an orange star--and both were prismatic, and very shiny.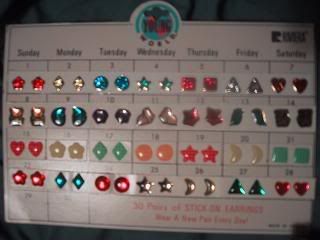 I laughed so hard in the aisle after realizing this. My daughter got upset as I took them off, so I assured her I loved them and would put them on later (thankfully, she forgot!). This tops the day she put Cinderella stickers on each of my nails. The look the drive-thru cashier gave me was priceless when she spotted my 'manicure.'

I can only wonder what the next Mommy Makeover will be...