"Give my son the measles. I'll take that way over autism any day."

"In a heartbeat," she adds later on.

Perhaps Jenny hasn't used her Google PhD to look up measles yet. Maybe she could ask her own pediatrician, Dr. Jay Gordon. On his own website, you'll find this:

Measles still causes a million deaths worldwide even though a very effective measles vaccination program in the United States has just given us our third year in a row with fewer than 100 cases of measles in our country.
Has Jenny ever read about measles in developing countries? This blog, Nigeria Health Watch, discusses another outbreak there in December 2007. The author asks, "How many children will have to die from measles in Nigeria?" After reading that entry, Jenny may want to visit KidsHealth where she can read this information:

A child who is diagnosed with measles should be closely monitor for fever and other symptoms to detect any complications. In some cases, measles can lead to other health problems, such as croup, and infections like bronchitis, bronchiolitis, pneumonia, conjunctivitis (pinkeye), myocarditis, and encephalitis. Measles also can make the body more susceptible to ear infections or other health problems caused by bacteria.
My child is prone to croup and bronchitis, she has been hospitalized for RSV, and for a bacterial infection called
pseudomonas
(which she caught during a hospitalization for surgery). I can't imagine ever saying I'd prefer measles, or pseudomonas, to autism.
Further information on measles, and the importance of vaccines, Jenny may want to visit the
World Health Organization (WHO)
. WHO offers some startling facts:
Measles remains a leading cause of death among young children, despite the availability of a safe and effective vaccine for the past 40 years.
In 2006, it was estimated that there were 242 000 measles deaths globally: this translates to about 663 deaths every day or 27 deaths every hour.
Vaccination has had a major impact on measles deaths. Overall, global measles mortality decreased by 68% between 2000 and 2006. The largest gains occurred in Africa where measles cases and deaths fell by 91%.
Some people need images, to let it all sink in. Here is what a "
measles eye
" looks like. And there's these pictures too: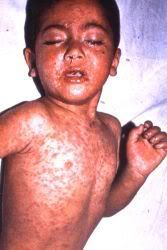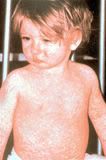 I hope many will come forward and speak out against Ms. McCarthy, and this outrageous statement she made. I also wish Jenny would study up on measles, and realize how ridiculous she is to ask her son be given measles, any day, over autism. It is ignorant, and even offensive (to those who have suffered and died from measles, to the 27 mothers who every hour lose their child to this disease, and to autistics who are here, alive on this earth).